Classic CDs – Typewriters, Cityscapes and Sound Resources
There's a lot more to Leroy Anderson than the ubiquitous Sleigh ride. Although his professors at Harvard included Enescu and Walter Piston, the polyglot Anderson intended to pursue a career in languages ​​until Boston Pops Orchestra conductor Arthur Fiedler heard his "Harvard Sketches" in 1936 and commissioned him to write short plays. Harvard Sketches is one of many surprises contained in this five-disc set, a brief section describing a library reading room full of Ivesian effects, the five-minute work ending with a confetti fight. Anderson was a consummate professional, a songwriter who knew what he was good at and saw no point in breaking what didn't need fixing. Try the tiny "Melody on Two Notes", two serene minutes based on the interval of a perfect fifth. Impeccably orchestrated, it's sublime. Three of the CDs contain the bulk of Anderson's short pieces. The favorites are all here, performed with liveliness by Leonard Slatkin and the versatile BBC Concert Orchestra. Sample Catherine Moore's idiomatic solo in "Trumpeter's Lullaby," or the liveliness of the pizzicato strings in "Plink, Plank, Plunk." "The Classical Jukebox," its catchy tune spread across a variety of classic styles, includes mechanical jukebox sounds and seconds from the 78 rpm record. In about three minutes. There's an impressively nimble typist in Anderson's signature tune, and some entertaining sound effects in an arrangement of "Old MacDonald."
Rarities include generous selections from Anderson's charming 1958 Broadway musical Goldilocks, with Kim Criswell and William Dazely on voice duties. I am less convinced by the Piano Concerto in C, withdrawn by its self-critical composer and published only posthumously. Early recordings include a number of previously unreleased works; Anderson's output slowed during his last decade (he died in 1975), but the tunes kept coming. Slatkin's polished Anderson anthology recorded for RCA with the St Louis Symphony is still available, but this Naxos set is the one to have, records recorded between 2006 and 2007. Life-affirming pleasure.
Danny Clay: Music for Hard Times The Living Earth Show/Danny Clay (Earthy Records)
A "self-proclaimed sound resource for those in need of comfort and quiet," Danny Clay's Music for hard times is difficult to classify. Part anthology of found sounds, part educational project, the 15 tracks on this album were distilled from several thousand hours of sound files. Those in Part 1 were recorded by Andy Meyerson and Travis Andrews of San Francisco guitar/percussion duo The Living Earth Show, and the eight "calming strategies" Clay provided as starting points are included on the physical album, a beautifully handmade product. bound book. Pleasantly vague instructions sit alongside simple chord and note sequences, exquisitely presented. Either you'll fall in love with a command like "imagine the warmest, enveloping harmony you can think of" and feel what Clay means with his scribbles and graphics, or you won't. But, approach this outing with an open mind and a big heart, and you will be won over. As artistic responses to Covid go, this one is a charmer. Snippets of ambient sound draw attention to the sounds of toy instruments, and I'm disappointed the music generated by a jug of kombucha didn't make the final cut.
Part 2 was created with the help of singers and instrumentalists from the San Francisco Conservatory. The antiphonal vocal lines on track 10 (provided by the San Francisco Girls Chorus) are sublime, and the way the disparate instrumental lines meld into the choral textures on track 11 is artful. Clay's finale is an extended chord in A major, the colors changing, the textures thickening and thinning. Reach the end and you'll instantly start exploring the work again. Highly recommended. And, as mentioned, buy the physical disc: design-wise, it's a work of art.
Joanna NicholsonGyre (TNW Music)
Scottish clarinetist Joanna Nicholson has a clear idea of ​​the powerful and precise sound the clarinet can produce. She wrote, for example, that "the physicality of sound projection in a hall with more than 1000 seats" can be particularly "muscular and powerful". In the 25 minutes of music from William Sweeney's 1976 composition "Nine Days Piobaireachd" for clarinet and drone, we hear its most delightfully communicative and persuasive sound. It's not just about the loudness of the sound. There is also joy in being heard in the urgency and momentum of his storytelling in Sweeney's work. For this composition, William Sweeney used the form of a pibroch, a set of variations on a background ("urlar") for Scottish Highland bagpipes, and developed figures which, rather than copying the bagpipes, bring out the character of the clarinet. Sweeney, a clarinetist himself, wrote the piece in his mid-twenties to mark the 50th anniversary of the 1926 General Strike. The original dedicatee of the piece was Alan Hacker.
"Nine Days" takes up about half of the album. It was fascinating to compare this new performance with an old BBC recording of Alan Hacker playing it live in Edinburgh, which William Sweeney kindly allowed me to listen to. While Hacker's reading can be elegiac, inward, thoughtful, measured, and his tone can be more raspy, Nicholson's new recording is much more public and performative. There may be rehearsals and rituals here, but the interest, drive, insistence, stamina and passionate intent of Nicholson's new performance never falters at any time. I was captivated from start to finish. The other tracks are vignettes from "Nine Days". The opening and title are also inspired by Scottish heritage, this time lived through nature. "Gyre" (pronounced as "gyrate") is a vivid composition by the clarinetist herself, and which refers to the overwhelming sight of a spiral or vortex of thousands of gannets that she saw from his kayak at Troup Head Bird Sanctuary on the Aberdeenshire Coast.
Nicholson has an utterly persuasive and fiery voice when heard on his own terms, as in these two pieces. Others may think differently, but I found the three remaining works on the album, in which she took on the challenge of interacting with electronic sounds, more compelling – and ultimately much less interesting.
Vaughan Williams: A London Symphony (arranged for duet with piano), plus music by Maconchy and Finzi Lynn Arnold & Charles Matthews (piano and organ duo) (Albion Records)
Lynn Arnold and Charles Matthews' 2021 piano duet recording of Walton 1 demands to be heard. Here is the sequel: Symphony No. 2 by Vaughan Williams, heard here in a duo transcription from 1937 by a certain Archibald Jacob. I googled Jacob and didn't find much about him except that he published a book on songwriting. But his arrangement of Vaughan Williams works well; the contrapuntal lines emerge cleanly, and the faster passages of the first movement pack a breezy, jazzy punch. And, when the texture thins, one suddenly remembers how much Vaughan Williams owed his teacher Ravel; the development section of the same movement is exquisite here. The great modal outburst of "Lento" rings out, making the sweet coda all the more moving. Arnold and Matthews give the scherzo plenty of momentum and the finale never loses its shape. As with the Walton, if you like the original, you'll need to hear this version.
Interesting pairings too. Matthews and Arnold swap seats for the Prelude, Fugato and Finale by Elizabeth Maconchy, composed in 1967 for Susan Bradshaw and Richard Rodney Bennett. Maconchy's freely dissonant but accessible language wins. There's so much space and light in the writing, a favorite moment being the huge chord that abruptly closes the midsection. Better known is that of Finzi Eclogue. Howard Ferguson's arrangement for two pianos is played here, with Matthews playing the second part on the organ. It's a sound that tickles the ears but not one I would often come back to; the sonority of the organ, despite Matthews' sensitive playing, smothers Finzi's delicate little piece in a funereal and dusty fog. Interesting, but I wouldn't rush to hear it again. The Vaughan Williams and Maconchy are superb, however, and the disc has attractive artwork, good notes and fine engineering.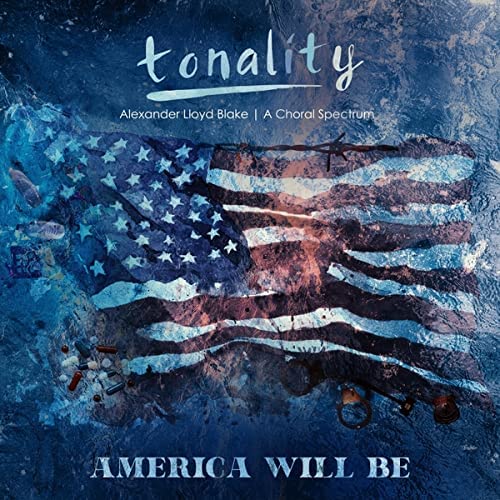 America will be the tone / Alexander Lloyd Blake (Aerocade music)
Alexander Lloyd Blake conceived Toality in 2016 as a vocal ensemble faithfully reflecting "the diverse cultures and ethnicities of the Los Angeles area", performing concerts on themes such as gun violence, homelessness, climate change and rights women. This, their second album, is as eclectic as one would expect. Like Music for Hard Times, America Will Be was driven by the lockdown: in this case, the pandemic's ability to widen divisions and bring communities together. And, as with Danny Clay's record, the sheer scale and power of the performances sweep away any fears you might have about the album's worth. The tight balance helps too, with the disembodied, disembodied vocals of "1223 Lyfe" packing a real punch. Lloyd Blake's lyrics denounce the cruelty of the American penal system to irresistibly catchy music. Shawn Kirchner's setting of Sylvia Plath's "Tulips" deserves to become a repertoire standard, and an arrangement of Nathan Heldman's "Bridge Over Troubled Water" is sung with extraordinary boldness and warmth.
Excerpts from Greta Thunberg's speech at the UN are part of Joseph Trapanese's "The New Collective Consciousness", its slowly shifting harmonies mirroring the melting of a glacier in Iceland. Sam Cooke's "A Change is Gonna Come" sounds wonderful in this a capella arrangement, and the closing number, "#UnitedWeDream" suggests that all hope is not lost. The texts are not included, and it is a pity that the soloists from the ensemble are not quoted in the libretto. It's still great, though: an occasionally angry, yet hugely upbeat album for troubled times.